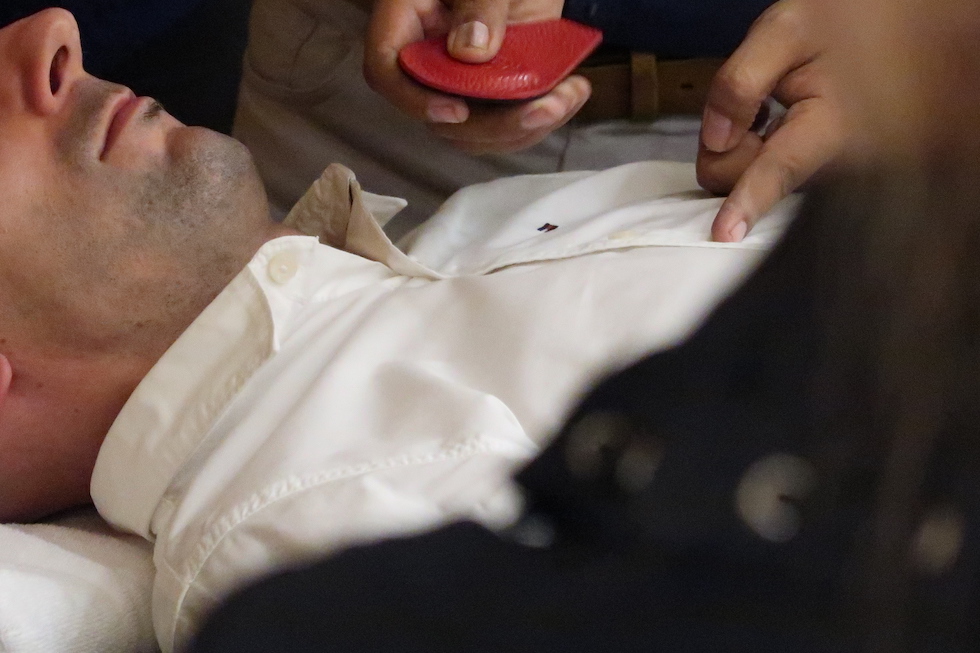 Biomagnetism training online
What is Biomagnetism?
Is a therapeutic system developed by mi father Dr Isaac Goiz Duran, MD  based on his discovery of the first Biomagnetic Pair (BMP) on 1988.
Biomagnetism studies, detects, classifies, measures and corrects the fundamental alterations of the pH of living organisms.
When the pH is balanced, it immediately regulates and corrects the infectious pathologies. This new therapeutic criteria is able to identify the origin of viral and bacterial diseases, as well as glandular dysfunctions caused by pathogenic microorganisms in or near the glands.
A Biomagnetic Pair BMP is created when there are 2 specific areas in the body that are energetically connected and resonate with each other, one is positive-acidic the other negative-alkaline.
Dr Isaac Goiz Duran, MD  discovered that viruses and fungus have a symbiotic relationship as well as bacterias do with parasites. Also bacterias and viruses resonate with each other which causes illness, being one of them pathogen and the other non pathogen depending of the specific illness.
Bacterias and parasites live and grow in an alkaline enviroment while viruses and fungus live and grow in an acidic enviroment.
The training includes:
10 online videos available at virtual classroomt. You will be able to watch them at home at your own pace. We'll be releasing these videos for you to watch before each live session. These videos will be available for you to watch for 3 months.
5 online live sessions via Zoom with Moises Goiz, each of 2 hours length and a link will be sent to you for each session. If you are unable to attend the session live, it will be recorded and available for the next 3 days. The time will be 10 am PST = California – 6 pm Ireland time – 7 pm Spain – 1 am Perth, Australia 9 (one day ahead difference)
The Certification for Biomagnetism Level 1 & 2is issued by the Superior School of Medical Biomagnetism Isaac Goiz Duran and will be signed by Dr. Isaac Goiz Duran MD and Moises Goiz. This is the only worldwide Institution that issues the necessary official certifications for the accurate teachings and instruction of Medical Biomagnetism and which is in charge of regulating, certifying and disseminating the latest discoveries so everyone can obtain the benefits of Dr Isaac Goiz Duran's technique.
If interested please fill out the below form
https://forms.gle/U585RH53p9WeZ8pU6
Programación horaria
Día 1
-

1. Bienvenida
-

2. Antecedentes
-

3. Magnetismo
-

4. Entropía
-

5. Simbiosis
-

6. Potencial de hidrógeno
-

7. Resonancia magnética
-

8. El Par Biomagnético P1
-

9. El Par Biomagnético P2
Día 2
20:00

-

22:00

Sesión en Vivo

El Par Biomagnético
Día 3
-

10. Dismetria
-

11. Verificación de elongamientos
-

12. Ley de dismetrías
-

13. Colocación de imanes
-

14. Rastreo
-

15. Rastreo Invertido
-

16. Tipos de impactos
-

17. Efecto Pantalla
-

18. Reservorios
Día 4
20:00

-

22:00

Sesión en vivo

Rastreo de pares
Día 5
-

19. Pares del rostro
-

20. Pares del rostro p2
-

21. Pares del tórax
-

22. Pares del tórax p2
-

23. Extremidades superiores
-

24. Pares del hígado
-

25. Pares del abdomen
-

26. Pares del abdomen p2
-

27. Pares del vientre
Día 6
20:00

-

22:00

Sesión en vivo

Pares Biomagnéticos I
Día 7
-

28. Extremidades inferiores
-

29. Columna inferior
-

30. Pares Lumbares
-

31. Pares Torácicos
-

32. Pares Cervicales
-

33. Pares Craneales
-

34. Pares Rostro detalle
-

35. Pares Tórax 2
Día 8
20:00

-

22:00

Sesión en vivo

Pares Biomagnéticos II
Día 9
-

36. Migración de patógenos
-

37. Enfermedades complejas
-

38. VIH - Lyme
-

39. Diabetes
-

40. Fenómeno Tumoral
-

41. Práctica profesional
-

42. Recomendaciones
Día 10
20:00

-

22:00

Sesión en vivo

Enfermedades complejas