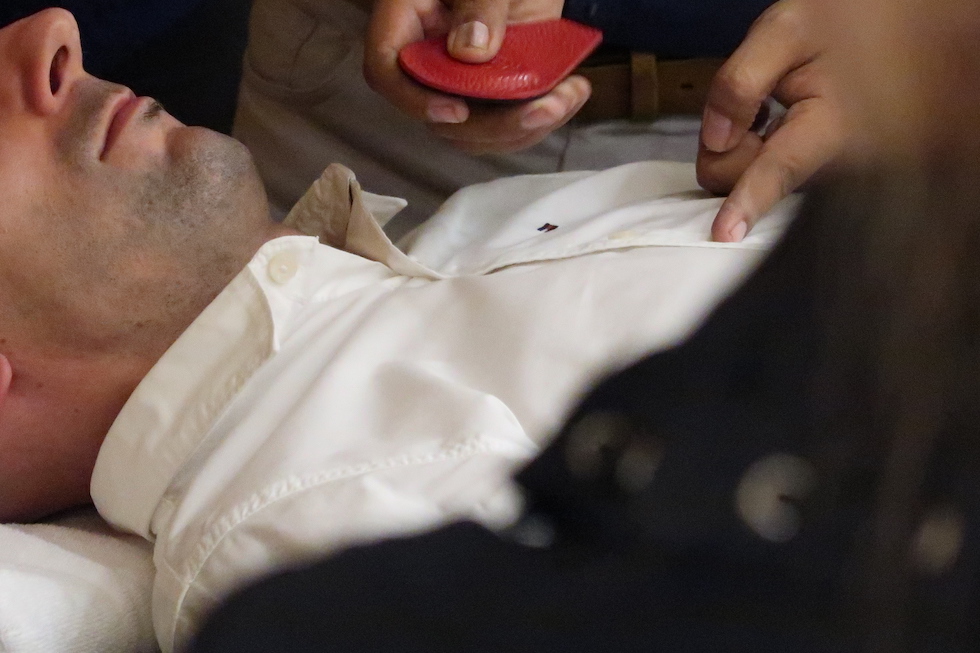 Biomagnetism training online
What is Biomagnetism?
Is a therapeutic system developed by mi father Dr Isaac Goiz Duran, MD  based on his discovery of the first Biomagnetic Pair (BMP) on 1988.
The Biomagnetic Pair technique consists of the positioning of magnets in specific points of the body to help maintain and restore internal balance in the body, ensuring a state of well-being and general health.
This course will allow you to access the learning of the Biomagnetic Pair technique with the innovative and didactic methodology that characterize Dr. H.C. Moisés Goiz's courses, as well as a production of impeccable quality multimedia content.
Your instructor, Dr. H.C. Moisés Goiz will help you acquire all the knowledge required to create excellent bases for your practice as a biomagnetist, in such a way that the only thing that remains at the end of the course is to go out and make immediate use of what you have learned.
The training includes:
Online videos available at virtual classroom. You will be able to watch them at home at your own pace. We'll be releasing these videos for you to watch before each live session. These videos will be available for you to watch for 3 months.
5 online live sessions via Zoom with Dr. H.C. Moises Goiz, and a link will be sent to you for each session. If you are unable to attend the session live, it will be recorded and available for the next 3 days.
The Certification for Biomagnetism Level 1 & 2is issued by the Superior School of Medical Biomagnetism Isaac Goiz Duran and will be signed by Dr. Isaac Goiz Duran MD and Moises Goiz. This is the only worldwide Institution that issues the necessary official certifications for the accurate teachings and instruction of Medical Biomagnetism and which is in charge of regulating, certifying and disseminating the latest discoveries so everyone can obtain the benefits of Dr Isaac Goiz Duran's technique.
If interested please fill out the below form
https://forms.gle/U585RH53p9WeZ8pU6
Programación horaria
Día 1
1. Bienvenida
2. Antecedentes
3. Magnetismo
4. Entropía
5. Simbiosis
6. Potencial de hidrógeno
7. Resonancia magnética
8. El Par Biomagnético P1
9. El Par Biomagnético P2
Día 2
20:00

-

22:00

Sesión en Vivo

El Par Biomagnético
Día 3
10. Dismetria
11. Verificación de elongamientos
12. Ley de dismetrías
13. Colocación de imanes
14. Rastreo
15. Rastreo Invertido
16. Tipos de impactos
17. Efecto Pantalla
18. Reservorios
Día 4
20:00

-

22:00

Sesión en vivo

Rastreo de pares
Día 5
19. Pares del rostro
20. Pares del rostro p2
21. Pares del tórax
22. Pares del tórax p2
23. Extremidades superiores
24. Pares del hígado
25. Pares del abdomen
26. Pares del abdomen p2
27. Pares del vientre
Día 6
20:00

-

22:00

Sesión en vivo

Pares Biomagnéticos I
Día 7
28. Extremidades inferiores
29. Columna inferior
30. Pares Lumbares
31. Pares Torácicos
32. Pares Cervicales
33. Pares Craneales
34. Pares Rostro detalle
35. Pares Tórax 2
Día 8
20:00

-

22:00

Sesión en vivo

Pares Biomagnéticos II
Día 9
36. Migración de patógenos
37. Enfermedades complejas
38. VIH - Lyme
39. Diabetes
40. Fenómeno Tumoral
41. Práctica profesional
42. Recomendaciones
Día 10
20:00

-

22:00

Sesión en vivo

Enfermedades complejas